(Paper) Latest Mu Sigma Interview Question Paper Pattern on 22 July, 2011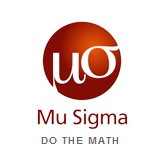 Mu Sigma
Company Name: Mu Sigma
Type : Fresher
Job Interview, Question Paper Write Up.
The Written Test was of 20 Questions to be Completed in 25 Minutes Sharp.
Basically It was an Aptitude Test (No Technical)
It Comprised of Three Sections viz .
Quant and Logical Reasoning : 10 Questions
RC: 05 Questions
Data Interpretation: 05 Questions
The Questions were Simple. You Can Clear it very easily.
After the Written Test There were GDs (avg group size 8)
Most of the Topics For GD were Related to Current Affairs and Social Awareness e.g. "was the act of Baba Ramdev Justified."
Around 50% From GDs Made it to the Personal Interview Round
Eliminations were in each Round of Interview. and at Most There were Three Interviews Taken (Avg. was Two).
A Few of the Interview Questions that I can recall are:
You are given 10 Sticks of Paper of Identical Dimensions. Each of them burns Completely in one hour (If Burnt From Only One Side). You need to measure 15 min of time using them?
How will you count the number of crows in your city.
How will you launch a new mineral water company in your city. what will be your marketing strategy. etc
You are given two vessels of 5 ltr and 3 ltr respectively. you need to measure 4 ltrs of liquid.(assume infinite supply).?
Suppose you are the store manager of any arbit. store. You come to know a fact that the sales of a particular brand's product is very less as compared to other products of same type but with different brand (e.g. consider the toothpastes . the sales of colgate is going down while that of close up ,babool etc. are rising /reasonably good). You know the fact that sales are going down because of the poor quality of the product and people also know that the product's quality is not good. Now How will you increase the sales of the down going product.?
Exam/Interview Date : 22-July-2011
No of Rounds : Aptitude Test, Group Discussion , Client/Manager Interview
Contributor Name : Harit