(Event) CloudCamp & First India Hadoop Summit By YAHOO! in Bangalore
CloudCamp & First India Hadoop Summit By YAHOO! in Bangalore
Place: Bangalore
By: Yahoo!
Event is on: February 28, 2010
About CloudCamp: CloudCamp is an unconference where early adopters of Cloud Computing technologies exchange ideas. With the rapid change occurring in the industry, we need a place where we can meet to share our experiences, challenges and solutions. At CloudCamp, you are encouraged to share your thoughts in several open discussions, as we strive for the advancement of Cloud Computing. End users, IT professionals and vendors are all encouraged to participate.
Register for CloudCamp Bangalore & Hadoop Summit, Feb 28, 2010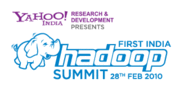 About India Hadoop Summit: Yahoo! India R&D presents first India Hadoop Summit, a dedicated track at CloudCamp, will bring together leaders from Hadoop developer and user communities. In this event you will find participants from Yahoo! India Hadoop team, Industry leaders and top universities.

February 2010:
Speakers will cover a rich variety of topics including the current state of Hadoop development and deployment, PIG, Data Mining, performance optimization of Hadoop Cluster, testing in Hadoop, real-world case study and, Hadoop in Academia Research.

At India Hadoop Summit, you will be encouraged to share your ideas, thoughts and experience in several open discussions. Please use the tag "indiahadoopsummit2010" in your tweets, posts, and photos.