(Book) Ultimate CV by Martin John Yate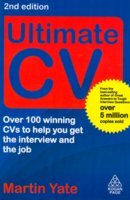 Book Title: Ultimate CV by Martin John Yate.
Book Summary of Ultimate CV:
Does your CV have what it takes to get you the interview?
What makes a great CV anyway?
How do you make your CV stand out from the crowd?
By the author of the best-selling job-hunting book of all time, Great Answers to Tough Interview Questions, Ultimate CV describes how to create an irresistible CV that will open doors to job interviews and offers of employment. Covering all aspects of this crucial part of the job-hunting process, Martin Yale shows how to
Turn plain facts into a powerful sales pitch
Create a CV that will stand out and grab an employer's attention
Use your CV online
Write a compelling cover letter
With hundreds of sample CVs tailored to specific jobs and situations, this is an indispensable book for job-hunters. It provides all you need to create a distinctive, professional CV that will get you the job.
About Author:
Martin John Yate is an internationally best-selling author. He has held major posts as a director of training and personnel for several international companies.
Details of Book:
Book: Ultimate CV, 2/e (Over 100 Winning CVs To Help You Get The Interview And The Job)
Author: Martin Yate
ISBN: 817554466X
ISBN-13: n9788175544666, 978-8175544666
Binding: Paperback
Publishing Date: 2009
Publisher: Kogan Page Limited
Edition: 02
Number of Pages: 302