(Book) How To Prepare Data Interpretation And Logical Reasoning For CAT By Arun Sharma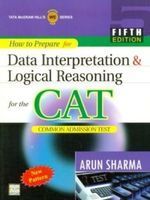 Book Title: How To Prepare Data Interpretation And Logical Reasoning For CAT By Arun Sharma
Book Summary of How To Prepare For Data Interpretation And Logical Reasoning For The CAT:
Data Interpretation & Logical Reasoning (DI & LR) is a key section of the CAT paper and accounts for nearly one-third of the total marks. The fifth edition of this widely read book by an acknowledged expert in this field is in sync with the online trend and pattern of the examination.
Salient Features:
Covers all probable types of questions that can be asked under 'traditional DI' questions
A Section 'Challenges in DI' comprises a collection of tough questions on DI & LR.
Logical Reasoning section extensively deals with step-by-step illustrated solutions
Two new mock tests with solution on the latest CAT pattern
A new section on Data Sufficiency
An extra practice exercise on Reasoning - in view of the increased emphasis on Reasoning in the online version
Fully solved original CAT papers till 2008
Introductory write-up on how to tackle CAT from the DI and LR perspective.
Author: Arun Sharma
ISBN: 0070704813
ISBN-13:9780070704817, 978-0070704817
Binding: Paperback
Publisher:Mc Graw Hill
Language: English
Publishing Date: 2010
Edition: 5th Edition
Number of Pages: 576